An example of resistance and innovation
by Ilaria De Nardi
When you make handmade products, each hand is different and each piece is unique, the uniqueness of Linda Echevarría Blanco, an artisan from Lima city, makes her stand out as person, as well as her production.
Mrs. Linda Echevarría has her workshop in the San Juan de Lurigancho district inside a house with orange walls as intense and bright as her passion for crafts and her mastery in crochet jewelry in Peruvian stitch. Linda belongs to the Neoancestral Sculpture Academy of Juan Ernesto Pacheco Enciso, a school of woven jewelry directed by the homonymous sculptor who discovered this technique from the Caral culture.
It all started in 2011, Mrs. Linda was going through a difficult time in her life and during this time period it came to her attention that there were NGOs that offered weaving and knitting courses, jewelry and various talks, and the most interesting thing of it all is that all these projects were designed precisely for women. The project executed by ASPEm, Mujeres Con Talento, offered training courses to improve both the technique and business aspects for the commercialization of her products. It was in this way that Linda began to study jewelry and laid the foundations for her future in crafts, also coming into contact with other women and forming an association of which she was appointed president in 2015. Since its inception, all of the work of Mrs. Linda consists of constant study and training.
It should be noted that the production of Linda Echevarría Blanco has a special outlook for sustainability and caring for the environment. In addition to working only with silver, which is a natural material, she manages to weld in a natural way and all her products are recyclable and capable of new life. Her attention to detail and quality also stands out in the exclusive use of natural, precious and semi-precious stones.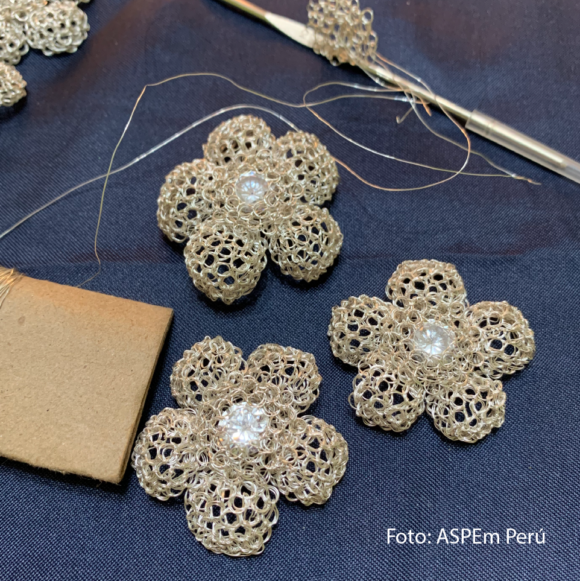 For an artisan, fairs are the events that contribute the most to her work, both in terms of visibility and for economic income. For this reason, the pandemic has greatly affected her artisanal activity, because in addition to the fear of being infected, it caused the loss of two family members. It is not the first time that, as a result of hard times, Linda Echevarría Blanco's creative spirit and her entrepreneurial nature led her to a new adventure. During the pandemic, people no longer needed as much jewelry as before and she decided to reinvent herself and her business with another type of artisan product. Without losing hope, she began to study from home how to produce antiallergic crocheted dolls in pure cotton. That idea was immediately very interesting, especially since the dolls were good company for the children who were forced to stay at home because of the confinement.
Linda Echevarría Blanco is a great example of an enterprising woman who has been able to draw strength from difficulties to resist and reinvent herself in a difficult socioeconomic context such as what we have and are going through, and all our admiration and esteem goes to her.
You can find the products made by Linda on Facebook, Instagram or WhatsApp.